Helena Wulff
Professor and Deputy Head of Department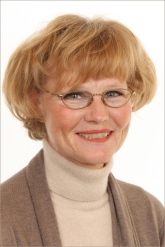 Telephone: +46 (0)8 16 26 85
E-mail: helena.wulff@socant.su.se
Room: B624
Office hours: Mon 3-5 pm
Research
Helena Wulff is Professor of social anthropology at Stockholm University. Her research is in the anthropology of communication and aesthetics based on a wide range of studies of the social worlds of literary production, dance, and the visual arts. She has held visiting professorships at University of Illinois at Urbana-Champaign, National University of Singapore, University of Vienna, and University of Ulster, as well as a Leverhulme visiting professorship at University of East London. She was Chair of the Anthropological Association of Sweden (SANT). Helena Wulff is Editor (with Jonathan Skinner) of the book series "Dance and Performance Studies) with Berghahn Books, Oxford, and a member of the advisory boards of the journals Cultural Sociology, Social Anthropology, Culture Unbound, Anthropological Journal of European Cultures, and Slovenský Národopis/Slovak Ethnology. She was Editor-in-Chief (with Dorle Dracklé) of Social Anthropology/Anthropologie Sociale, the journal of the European Association of Social Anthropologists (EASA), and Vice President of EASA.
Among Helena Wulff´s English-language publications are the monographs Ballet across Borders: Career and Culture in the World of Dancers (1998, reprinted 2001, Berg/Bloomsbury) and Dancing at the Crossroads: Memory and Mobility in Ireland (2007, paperback 2009, Berghahn), as well as the volumes The Emotions: A Cultural Reader (editor, 2007, Berg/Bloomsbury) and Youth Cultures: A Cross-Cultural Perspective (editor with Vered Amit-Talai, Routledge, 1995), New Technologies at Work: People, Screens and Social Virtuality (editor with Christina Garsten, 2003, Berg/Bloomsbury), and Ethnographic Practice in the Present (editor with Marit Melhuus and Jon P. Mitchell, 2010, Berghahn). Articles have appeared in journals such as Body & Society, Identities, Ethnography, Anthropological Journal of European Cultures, and Ethnologie française. She has written book chapters in many edited volumes, and entries in a number of encyclopedias. Drawing on her research, she also occasionally writes popular articles for newspapers and magazines in Sweden and the UK.
While Helena Wulff´s early research was on youth culture and ethnicity, her specialist skills now include expressive cultural form (dance, art, images, text) in a transnational perspective, visual culture, the emotions, and media, as well as anthropological methods. She has conducted field studies in Stockholm, London, New York, Frankfurt-am-Main, and Ireland (mostly Dublin). Her current research is on writing and literature as cultural process and form focusing on contemporary Irish writers. Drawing on her research, she teaches courses on Media anthropology, Visual Culture, Studies in Cultural Form, Communication and Aesthetics, Anthropological Writing Genres, and Anthropological Methods.
Read more about Wulff's current research here.
Selected publications
2013
"Ethnografiction and Reality in Contemporary Irish Literature," in Marilyn Cohen (ed.), Novel Approaches to Anthropology: Contributions to Literary Anthropology. New York City: Lexington Books.
"Dance ethnography," in Oxford Bibliographies Online. New York: Oxford University Press.
"Ways of Seeing Ireland´s Green: From Ban to the Branding of a Nation," The Senses and Society, vol. 9, no.2: 233-240.
2012
"An Anthropological Perspective on Literary Arts in Ireland," in Ullrich Kockel, Máiréad Nic Craith och Jonas Frykman (eds.), Blackwell Companion to the Anthropology of Europe. Oxford: Wiley-Blackwell.
2011
"Histoires de Terroir: Les Écrivains contemporains et l'Irlande Nouvelle," Ethnologie française, Avril, 2: 301-308.
2008
"Literary Readings as Performance: On the Career of Contemporary Writers in the New Ireland," Anthropological Journal of European Cultures, 17: 98-113.
"Ethereal Expression: Paradoxes of Ballet as a Global Physical Culture," Ethnography, 9(4): 519-536.
2007
"Longing for the Land: Emotions, Memory and Nature in Irish Travel Advertisements," Identities 14(4): 527-544.
2005
"´High Arts´ and the Market: An Uneasy Partnership in the Transnational World of Ballet," in David Inglis and John Hughson (eds.), The Sociology of Art. Basingstoke: Palgrave.
"Memories in Motion: The Irish Dancing Body", Body & Society, themed issue on "the dancing body", (ed.) Bryan S. Turner, vol. 11(4): 45-62.

Complete list of Helena Wulff's publications January 2014 (240 Kb)