Ulf Hannerz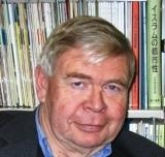 E-mail: ulf.hannerz@socant.su.se
Ulf Hannerz was Professor of Social Anthropology 1981-2007 (acting professor 1976-80). He received his Ph.D. at Stockholm University in 1969 and has also taught at several American, European, Asian and Australian universities. He is a member of the Royal Swedish Academy of Sciences and the American Academy of Arts and Sciences, an honorary fellow of the Royal Anthropological Institute of Great Britain and Ireland, an honorary member and former Chair of the European Association of Social Anthropologists, a member of the Committee on World Anthropologies of the American Anthropological Assocation, a former director of the Swedish Collegium for Advanced Study in the Social Sciences (SCASSS), and a former editor of the journal Ethnos. His research has been especially in urban anthropology, media anthropology and transnational cultural processes,with field studies in West Africa, the Caribbean, and the United States. A study of the work of news media foreign correspondents included multi-sited field research in four continents, and he has also directed an interdisciplinary research project on cosmopolitanism. Among his books are Soulside (1969), Exploring the City (1980), Cultural Complexity (1992), Transnational Connections (1996), Foreign News (2004), and Anthropology's World (2011); several of them have also appeared in French, Spanish, Italian and Polish. He has also written or edited several books in Swedish. He was the Anthropology editor for the International Enyclopedia of the Social and Behavioral Sciences (2001). He was a Fellow at the Center for Advanced Study in the Behavioral Sciences in 1984-85, gave the Lewis Henry Morgan lectures at the University of Rochester in 2000, a Munro Lecture at the University of Edinburgh in 2002, and the Daphne Berdahl Memorial Lecture at the University of Minnesota in 2011. In 2005 he was awarded an honorary doctorate at the University of Oslo, and in 2010 he received the Anders Retzius gold medal of the Swedish Society for Anthropology and Geography.
Research
Ulf Hannerz' current research focuses on those global scenarios which emerged as a genre since the end of the Cold War. These are treated here both as texts and as components in a transnational collective consciousness. The project deals with their global spread and their reception and influence in local and regional debates – how is "the clash of civilizations" understood in Denmark, the notion of "soft power" in Japan? Ulf Hannerz also participates in an international comparative project of anthropological studies of small countries.
Ongoing research projects
Global scenarios
The central focus of the study is on those global future scenarios which have appeared in several waves since the end of the Cold War, with such authors (academics or journalists) as Francis Fukuyama, Samuel Huntington, Joseph Nye, Benjamin Barber, Robert Kaplan och Thomas Friedman. The scenarios – "the end of history", "the clash of civilizations", "the world is flat" and others - often include a cultural dimension, to which special attention is devoted in the project. The scenarios are scrutinized here not only as texts, but also as a source of collective understandings which are reaching an increasingly global distribution. The transnational social organization of this cultural complex is thus also analysed. While it is clear that the scenarios have in large part had Euro-American origins, a later wave of them, by authors with stronger links elsewhere in the world (particularly Asia), has also become more noticeable.
Small countries: comparative perspectives
This collaborative activity, with Ulf Hannerz and professor Andre Gingrich, Vienna, as main partners, has included a workshop in Vienna in May, 2010, and a conference in Landskrona in June, 2012. An edited volume is being prepared for publication. The notion of "small countries" can be understood in both absolute and relative terms: it can refer to countries with small populations and/or limited territories, and it can refer to countries which perceive themselves, or are perceived, as small in relation to other, larger countries – often specific other countries such as dominant neighbors. Frequently countries are small in both senses. While small scale must always be seen in relation to other social and cultural characteristics, it can influence phenomena such as network form, trust, accessibility and national self-images. While anthropology has seldom focused on countries as units of study, there is a potential here for the comparative use of anthropological ideas.
Selected publications
2015
Explorando a Cidade: Em Busca de Uma Antropologia Urbana. Petrópolis, RJ: Editora Vozes. (Portuguese translation of Exploring the City.)
Företal. In Stig Holmqvist, Barheidas barn. Stockholm: Carlssons.
2014
Confessions of a Hoosier Anthropologist. American Anthropologist, 116: 169-172.
2013
Prologue. In Joshua Barker, Erik Harms and Johan Lindquist, eds., Figures of Southeast Asian Modernity. Honolulu: University of Hawaii Press.
A Detective Story Writer: Exploring Stockholm as It Once Was. City & Society, 25: 260-270.
Degisen Avrupa, Degisen Antropoloji. In Hande Birkalan-Gedik, ed., Sinirlar, Imajlar ve Kültürler. Ankara: Dipnot Yayinlari.
Kulturens hastigheter. In Mattias Viktorin and Charlotta Widmark, eds., Antropologi och tid. Ymer 2013: Årsbok för Svenska Sällskapet för Antropologi och Geografi.
2012
Il mondo dell'antropologia. Bologna: Il Mulino. (Italian translation of Anthropology's World.)
Foreword: Creolisation on the Move. In Tommaso Sbriccoli and Stefano Jacoviello, eds., Shifting Borders: European Perspectives on Creolisation. Newcastle: Cambridge Scholars Publishing.
Anthropologists Everywhere: Getting to Know Your Colleagues. Anthropology News, 53(8): 20-21.
Opinions: What Business Anthropology Is, What It Might Become…and What, Perhaps, It Should Not Be. (Contribution to a debate) Journal of Business Anthropology, 1(2): 254-256. www.cbs.dk/jba
2011
Café du Monde: platser, vägar och människor i världsvimlet. Stockholm: Carlssons.
"Frihet att", "Frihet från" och globalisering: En personlig erinring, och en till litet längre fram. Informanten (Aarhus), Forår, 12-13.
Operation Outreach: Anthropology and the Public in a World of Information Crowding. Archivio Antropologico Mediterraneo, 12-13, no. 13(1): 11-17. www.archivioantropologicomediterraneo.it
Kosmopolitismus. In Fernand Kreff, Eva-Maria Knoll, Andre Gingrich, eds., Lexikon der Globalisierung. Bielefeld: Transcript.
Comment on Stuart Alexander Rockefeller, 'Flow'. Current Anthropology, 52: 570-571.
Diversity is Our Business. In Holger Jebens and Karl-Heinz Kohl, eds., The End of Anthropology? Wantage: Sean Kingston.
2010
Anthropology's World: Life in a Twenty-first Century Discipline. London: Pluto Press.
Afterthoughts: World Watching. Social Anthropology, 18: 448-453.
Diversity is Our Business. American Anthropologist, 112: 539-551.
"The First Draft of History": Notes on Events and Cultural Turbulence. In Hans Joas and Barbro Klein, eds., The Benefit Of Broad Horizons. Leiden: Brill.
La complexité culturale réactualisée: regards en arrière, regards en avant. In Ulf Hannerz, La complexité culturelle: Études de l'organisation sociale de la signification. Bernin: À la Croisée. (French translation of Cultural Complexity, new foreword.)
The world and the city since the Iron Curtain: Changing habitats of meaning. In Alexandra Bitusikova and Daniel Luther, eds., Cultural and social diversity in Slovakia III. Global and local in a contemporary city. Banska Bystrica: Matej Bel University - Institute of Social and Cultural Studies, pp. 8 - 16.
Membership on boards
Chair of the International Advisory Board, Institute of Social Anthropology, Austrian Academy of Sciences, Vienna, 2014-2016.
Editorial assignments
Member of the Editorial Board, Anthropology Today, London.
Member of the Editorial Board, Archivio Antropologico Mediterraneo, Palermo.
Member of the International Editorial Board, Ethnography, Los Angeles.
Member of the International Editorial Board, Ethnology, Pittsburgh.
Member of the Editorial Board, European Journal of Cultural Studies, London.
Member of the Editorial Board, Global Networks, Oxford.
Ulf Hannerz was editor of anthropology for the first edition of the International Encyclopedia of the Social and Behavioral Sciences, which was published in 2001, and continued as subject editor with Dominic Boyer, Rice University, as co-editor for the second edition, available in 2015 as an online publication. The encyclopedia is published by Elsevier, Oxford.
Member of the advisory board, Journal of Business Anthropology.
Member of the editorial board for the online edition for the International Association of American Studies, Review of International American Studies.
Lectures
2014
Eric R. Wolf Memorial Lecture, Internationales Forschungszentrum Kulturwissenschaften, Vienna, November 10.
Conferences, workshops
2014
"Anthropology: the Impact of Globalization", Globalization and the Social Sciences: A Workshop, Princeton University, Princeton, N.J., USA, September 12-13.
"Gerald Berreman and the Anthropological Imagination", paper in Memorial Session, "Producing a Critical Anthropology: Papers in Honor of Gerald Berreman". American Anthropological Association, Annual meeting, Washington, D.C, December 3-7.
Media
2015
Informal Control – Interview with Ulf Hannerz by Bernd Upmeyer. MONU (Magazine on Urbanism, Rotterdam), 22: 106-111.
"Anthropology may know a great deal about identity but we are not telling anybody" Interview with anthropologist Ulf Hannerz by Clara John and Valentine Auer. Paradigmata (Wien), forthcoming.
2014
Pasaulio Ateitis: Globalios Junctys ar Kreolizacija? Interview by Almantas Samalavicius (in Lithuanian). Kulturos Barai, 4: 13-17.
Information about past activities can be found in the Department's previous Annual Reports.