Vega symposium - The Public Presence of Anthropology
EVENT
Date:
20 April 2016, 9.15 AM
-
20 April 2016, 12.45 PM
Venue:
Kungl. Vetenskapsakademien, Beijersalen
Professor Didier Fassin has been awarded the SSAG's Medal in Gold 2016.
Swedish Society for Anthropology and Geography has awarded Professor Didier Fassin with the SSAG's Medal in Gold. Since 2009, he is James D. Wolfensohn Professor of Social Science at the Institute for Advanced Study Princeton, USA. From his earlier work in medical anthropology, Professor Fassin has developed a broad humanitarian anthropology – sometimes called a critical moral anthropology – focusing on marginalized and vulnerable groups, and the public institutions that contribute to make them vulnerable.
The Public Presence of Anthropology
The symposium will discuss the public relevance and importance of anthropology as well as the complex issues raised by the interactions with publics. This will involve the significance of ethnography and the moral and political questions it can enlighten. It will therefore not be programmatic, but rather analytic, and of course will propose case studies to enlighten the argument.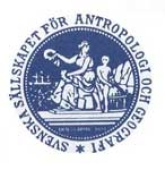 Program
9:15 Opening of the Vega Symposium. Professor Sten Hagberg, President of SSAG and Chair of the Symposium
9:30 Anthropologists without borders. Professor Didier Fassin, Institute for Advanced Social Studies, Princeton, USA
10:15 Interpreting Biology. Professor Margaret Lock, McGill University, Canada
10:45 Coffee
11:15 Being irrelevant in the relevant way: The contribution of anthropology to public wisdom. Professor Thomas Hylland Eriksen, Oslo University, Norway
11:45 Anthropology for Embattled Times: How Can We Live Differently? Professor Saba Mahmood, University of California, Berkeley, USA
12:15 Questions and summing up
12:45 Closing of Symposium
Last updated: April 20, 2016
Page editor: Lina Lorentz
Source: Department of Social Anthropology