Christina Garsten elected to AAA Executive Board
Professor Christina Garsten has been elected to the Executive Board of the American Anthropological Association. She will assume the position when the association holds its annual meeting later this week.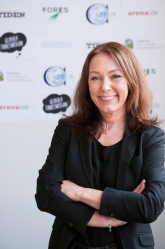 The American Anthropological Association (AAA) is the world's largest association for professional anthropologists, with more than 10,000 members. It was founded in 1902 and is based in Washington, DC. Members of the Executive Board are elected at-large by the AAA membership.
Find out more about the 2015 AAA election results.
Annual Meeting
The 2015 meeting will be held between November 18 and 22 in Denver, Colorado with more than 6,000 attendees.
Several researchers from the Department of Social Anthropology will participate in the meeting; to present papers, organise or chair panels and sessions.
Last updated: November 17, 2015
Page editor: Lina Lorentz
Source: Department of Social Anthropology