James Siegel interviewed by Johan Lindquist
In the latest issue of Public Culture (vol 25, no 3, 2013) Johan Lindquist, Associate Professor at the Department of Social Anthropology, interviews James Siegel, Professor of Anthropology and Asian Studies.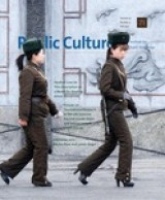 Cover of Public Culture, fall 2013
The interview was a result of an extended written and spoken conversation between October 2011 and March 2012. Johan Lindquist began by sending a series of questions to James Siegel, who responded in writing. The text was then sent back and forth as Lindquist added questions and asked for further clarification. In January 2012 Lindquist conducted a two-hour interview with Siegel in Paris and then integrated parts of the transcription into the written document. The text was then again sent back and forth before being finalized in March 2012.
Read the interview in Public Culture.
Last updated: October 22, 2013
Page editor: Lina Lorentz
Source: Department of Social Anthropology