Mark Graham editor of new Ashgate book series
Mark Graham has been appointed editor with Elisabeth Lund Engebretsen of the new book series On Edge: Ethnographies and Theories of Threshold Phenomena (Ashgate).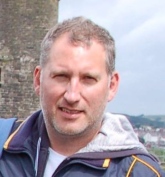 "This series seeks to explore the circumstances that compel subjects, life-forms, and material things to reimagine, redefine and reorder their existence at the edge of experience and social orders. Concerned with the ever-present but often unarticulated doubt embedded in everyday life and based on a metaphysics of emergence, novelty and creativity as forces in their own right, it welcomes anthropological and trans-disciplinary studies of transformations and threshold phenomena, such as crises, disasters and catastrophes, deaths and births, sexualities, rituals of transition, and social movements.
With attention to phenomena that lie beyond the reach of everyday experience, whether these be life forms such as bacteria, material processes such as rusting, or the uncanny dimensions of the cultural and social, On Edge: Ethnographies and Theories of Threshold Phenomena encourages studies that develop innovative methodologies, including those informed by post-humanist perspectives, and seeks to make space for inventive and experimental projects."
Last updated: November 2, 2015
Page editor: Lina Lorentz
Source: Department of Social Anthropology