New book on anthropological writing
Professor Helena Wulff is the editor of the new book "The Anthropologist as Writer: Genres and Contexts in the Twenty-First Century" published by Berghahn.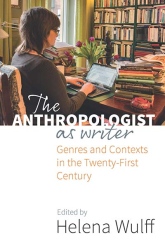 Helena Wulff has written the introduction to the book. Other chapters in the book have been authored by among others Anette Nyqvist, Eva-Maria Hardtmann, Mattias Viktorin, Paula Uimonen and Ulf Hannerz.
About the book from the publisher's website:
Writing is crucial to anthropology, but which genres are anthropologists expected to master in the 21st century? This book explores how anthropological writing shapes the intellectual content of the discipline and academic careers. First, chapters identify the different writing genres and contexts anthropologists actually engage with. Second, this book argues for the usefulness and necessity of taking seriously the idea of writing as a craft and of writing across and within genres in new ways. Although academic writing is an anthropologist's primary genre, they also write in many others, from drafting administrative texts and filing reports to composing ethnographically inspired journalism and fiction.
Last updated: April 20, 2016
Page editor: Lina Lorentz
Source: Department of Social Anthropology