New publication: Modernities on the Move
Modernities on the Move by Gudrun Dahl, Örjan Bartholdson, Paolo Favero and Shahram Khosravi is a new publication in the Acta Universitatis Stockholmiensis series Stockholm Studies in Social Anthropology N.S. The book emanates from three studies of youngsters and young adults in Tehran, Delhi and Salvador.
Modernities on the Move emanates from three studies of youngsters and young adults in three urban contexts in the world: in Tehran in Iran, Delhi in India, and Salvador in Brazil. To them, global as well as local ideas about modernization, traditionalism and authenticity provide frames for interpreting the development of society and evaluating one's own life.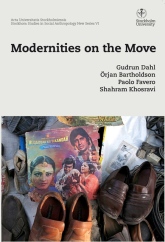 The young people that this volume is concerned with were all born in the 1980s. Today they are adults. They all relate to a globalized market of recognition, but also one of potential resources such as attractive commodities, international jobs, local jobs with an international touch, or international support for local activities through the NGO world. Their rod of reference for judging their own life is global.

Their sense of time and progress is related to the important developments of their own countries - internally and in relation to the global context - during their own lifespan and possibly that of their parents.

Yet, cultural identity is in all the three cases also marked by a relation to ideas about tradition. Becoming modern may also entail redescribing, reinventing and reviving pasts in which the parents' generation saw little value. The volume as a whole endeavours to give a contribution to the ethnography of varying cultural conceptualisations of modernity.

Read and download the book.
Find out more about two of the authors Gudrun Dahl and Shahram Khosravi.
Last updated: February 11, 2013
Page editor: Lina Lorentz
Source: Department of Social Anthropology