Paolo Favero interviewed about visual methods
In the latest episode of the Cultural Anthropology podcast Nora Schröter and Jenny Lindblad talk with Paolo Favero about applying visual methods in the field. At the time of the interview, Nora and Jenny were master's students at the Department of Social Anthropology.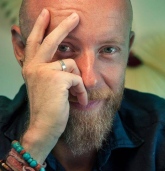 Paolo Favero, Associate Professor at the Department of Communication Studies at the University of Antwerp, has devoted the core of his work to the study of visual culture in Italy and India.
Nora Schröter and Jenny Lindblad interview Paolo Favero about his engagement with visual methods.
Listen to AnthroPod, the Society for Cultural Anthropology's podcast.
In the article "Talk about anthropology!" (featured in the Department's Annual Report 2014) Nora Schröter and Jenny Lindblad explain how they came in contact with the Cultural Anthropology journal and its podcast series.
Last updated: December 21, 2015
Page editor: Lina Lorentz
Source: Department of Social Anthropology