PhD opportunity connected with the Anthro-Zoonoses network
Dr Hannah Brown (Durham University) and Prof Eric Fevre (University of Liverpool), members of the Anthro-Zoonoses Network, are interested in working with UK or EU based students who wish to undertake a PhD on social science dimensions of human-animal disease or veterinary medicine in Kenya, or who are interested in combining anthropological methods and veterinary science in a PhD project.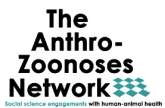 The two will support prospective candidates to apply to the ESRC North East and Northern Ireland (NINE) Cross Council Interdisciplinary studentships scheme (Scheme soon to be announced. Deadline for applications expected 11th January 2017). Students would be based at Durham but supervised across the two institutions. They would carry out fieldwork in Kenya where they would be able work collaboratively with the International Livestock Research Institute and other relevant Kenyan partners.
Find out more about the PhD studentship opportunity.
Last updated: November 29, 2016
Page editor: Lina Lorentz
Source: Department of Social Anthropology