Master's programs
Deadline for application is around January 15 for students from outside the EU/EES and around April 15 for students from EU/EES countries. For exact dates, please check www.universityadmissions.se.

The Department of Social Anthropology at Stockholm University is a world-leading research institution that provides a global and comparative perspective on the diversity of social and cultural forms of the contemporary world.
The master's programme reflects the Department's commitment to understanding people, ideas, and objects in situ, and how they travel across political and cultural borders, challenging, reinforcing or redrawing them in the process. Studies are flexible and the program offers a range of courses that reflects the Department's research interests. It is also possible, by agreement, to choose courses from other departments to tailor an individual specialization.
Compulsory courses are e.g. History and Philosophy of Anthropological Theory, and Anthropological Methods. The methods course teaches fieldwork skills and has a strong practical orientation. Students also take part in the "Writing Anthropology Workshop" which runs throughout their first year of study. During the second year, students formulate an independent research project and carry out long-term fieldwork in Sweden or abroad before writing their thesis.
International Master's programme in Environmental Social Science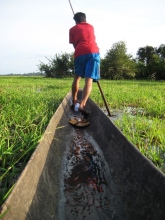 The program is a collaboration between the Department of Social Anthropology, the Department of Political Science (host) and the Department of Human Geography.
Environmental social science is the interdisciplinary study of what governs people's behaviour, beliefs and ways of organising themselves in relation to the natural environment. It focuses on understanding the social processes that either lead to environmental change or are a reaction or adaptation to such change.
The field of research explores how, where and at what levels of society decisions relating to the environment are made. How can various types of political, financial, social and cultural control of social processes affecting the environment be achieved at the local, national and global levels?
Master's programme in Social Anthropology - CREOLE
NB as of autumn term 2019, we do not admit any new students to the CREOLE program.
CREOLE is a specialized master's program that provides a comprehensive education in social anthropology. It addresses three main areas: transnational processes, cultural differences and visual culture.
The program includes an exchange component in which students spend two terms abroad at one, or two, of the partner universities: Université Lumière Lyon 2 (France), Universitat Autònoma de Barcelona (Spain), National University of Ireland-Maynooth (Republic of Ireland), Universität Wien (Austria), and Univerza v Ljubljani (Slovenia). Studies are flexible and allow for the creation of individual programs tailored to each student's interests.
The master's thesis comprises one semester (30 credits) and is preceded by a period of fieldwork. The subject of the thesis is freely chosen within the overarching theme of the program and is decided upon in consultation with the thesis advisor.
Last updated: January 20, 2021
Page editor: Anna-Karin Olsson
Source: Department of Social Anthropology