Anna Gustafsson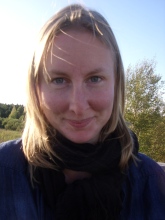 Telephone: +46 (0)8 16 33 72
E-mail: anna.gustafsson@socant.su.se
Room: B616
Selected publications
Beauty as a Capacity: A Study of Hands-In-Craft, in Bunn, S. (eds.) Anthropology and Beauty. From Aesthetics to Creativity. London: Routledge. (in press)
2014
'Strävan efter 'det goda livet': Berättelser om handarbete och välbefinnande', i Bårjås, Lulesámisk populærvitenskapelig tidsskrift fra Àrran- lulesamisk senter.
Teaching
Social Anthropology I. Ekonomi. Värden, resurser och miljö.
Social Anthropology II. Gender and Sexuality
Social Anthropology III. Current Anthropological Debates
Conferences
2016
'"Visible" and "Invisible" Sámi Craftsmanship', EASA (The European Association of Social Anthropologists) Conference, University of Milano-Bicocca.
2013
'Crafting freedom', Conference of Freedoms and Liberties in Anthropological perspectives, University of St Andrews.
Last updated: January 17, 2018
Page editor: Lina Lorentz
Source: Department of Social Anthropology