Anna Gustafsson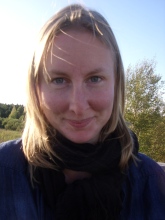 Telephone: +46 (0)8 16 15 74
E-mail: anna.gustafsson@socant.su.se
Anna Gustafsson joined the Department of Social Anthropology as a researcher and lecturer in 2014. She holds a Bsc from the University of East London (2008) and a Phd from the University of St Andrews (2014). Since 2020, Anna is the Director of Studies for undergraduate level. She has extensive experiences of teaching and supervision at undergraduate and graduate levels at Stockholm University and the University of St Andrews. She is a research associate at the Centre for Cosmopolitan Studies at the University of St Andrews. Gustafsson has also done some shorter projects and evaluations for the Coordination Association, City of Stockholm, and the Stockholm Gerontology Research Centre.
Research interests
Currently, Anna's research interests centres on exploring the intersections of gender and ageing in the Swedish countryside. Her research interests include gender old age, social change, rural living conditions, welfare, material culture, the relationship between the 'public' and 'private', and ethnographic writing.
Research projects
Ageing (well) in rural Sweden - possibilities and challenges for impoverished older women
FORMAS fund her current 4-year research project (2022- 2025) that aims to explore the living conditions for poor women pensioners in rural Sweden. In Sweden the numbers of poor older women have recently increased, and the rates of poverty among people over the age of 65 are highest in rural areas. Apart from an increasing proportion of impoverished older persons, many of Sweden's rural municipalities are characterised by rural depopulation, dismantling of local services and weak infrastructure. In light of this, the project aims to provide an in-depth ethnographic analysis of the possibilities and challenges of ageing well as a woman in rural Sweden.
By placing the lived everyday realities of impoverished older women at centre stage, the project brings together the concepts of 'successful ageing' and 'social sustainability'. Moving away from the individual-centered perspective of how to age well -which so far has dominated research and policy-oriented discussions- it (1) develops critical understandings of the micro- and macro-factors that influence women's ageing process and later life, and (2) inquire into how such perspective can enrich future discussions of ageing and how to organise socially sustainable, egalitarian and age-friendly rural communities.
The project relies on ethnographic fieldwork in rural Värmland and Västerbotten, and it involves close collaborative with impoverished older women, local stakeholders and pensioner's organisations.
Older Women and New Marriages: Ageing, Family and Gender in India
The Forum of Asian Studies, Stockholm University, and the Swedish Society for Anthropology and Geography (SSAG) fund a research project (2019-) that looks at experiences of ageing and gender in India. Unfortunately this project has been put on hold due to the pandemic.
This project looks at how older Hindu women challenge conventional notions of ageing, family and gender by remarrying in later life. By foregrounding older Hindu women as subjects of agency, the study challenges the tendency to overlook the power of older women in reshaping society. Furthermore, in the literature on late-life relationships there is a lack of studies outside the Global North and assumptions exist that new forms of relationships among older persons require certain social and material preconditions, such as a de-emphasis of marriage, culture of divorce and secularization. The Indian case invites a reevaluation of broader questions around ageing and agency that remain structured by an Eurocentric bias concerning a divide between the Global North and South, and contributes to wider debates around ageism. The project brings together the contemporary scholarship of India, sociological work on late-life intimacies, gender studies and anthropological approaches that highlight elder agency.
Working Towards "A Production of Well-being": An Ethnography on Craftsmanship among the Lulesámi in Norway
Gustafsson's doctoral research (2009- 2014) focuses on the political, social and economic significances of women's unpaid domestic craft production in Northern Norway. More specifically, it explores the 'understudied' domestic realms of Lulesámi women and the ways in which women have responded to colonialism and how they currently fashion post-colonial indigenous identity, family relationships and personal virtues. It engages in theoretical dialogues about women and social change, learning, the interrelationships between the 'public' and 'private' and of female agency in terms of creative capacities.
Selected publications
Accepted
Ten Perspectives of the

Gáppte

: Materialising Different Ways of Being Sámi, in TEXTILE: cloth and culture.
Learning "Flow": The Anatomy of Lulesámi Handicraft, in Craft Research.
2021
"

Att bli sedd, förstådd och lyssnad till

. En kvalitativ undersö

kning kring efterfrå

gan och behovet av äldreomsorg för romer och judar i Stockholm". Rapport. Stiftelsen Stockholms Äldrecentrum

"Ja till en språksatsning inom äldreomsorgen! - men hur och för vilka?" Rapport. Stiftelsen Stockholms Äldrecentrum

Book review:

Montgomery, Mary. 2019. Hired Daughters. Domestic Workers among Ordinary Moroccans. Bloomington, Indiana: Indiana University Press. 244 pp. ISBN: 9780253041005

, in Social Anthroology 28: 4.
2020
"Skillnaden är som dag och natt"

En socialantropologisk studie av insatsen samordnat stöd på

Alternativ SFI

".

Rapport

. Samordningsförbundet Stockholms stad.
2019
"

Invisible

" craftsmanship - Lulesámi women's craft production at home, i

n

Journal of Modern Craft

, 12(2): 109- 121.
2018
'Deltagande observation', in Nyckelbegrepp i socialantropologin

, i Bj

örklund, U & U. Hannerz (eds.). Socialantropologiska institutionen, Stockholms universitet.

'

Genus

', in Nyckelbegrepp i socialantropologin

, i Bj

örklund, U & U. Hannerz (eds.). Socialantropologiska institutionen, Stockholms universitet.
2017
Beauty as a Capacity: A Study of Hands-in-craft, in Bunn, S. (eds.) Anthropology and Beauty. From Aesthetics to Creativity. London: Routledge.
2014
'Strävan efter 'det goda livet': Berättelser om handarbete och välbefinnande, in Bårjås, Lulesámisk populærvitenskapelig tidsskrift fra Àrran- lulesamisk senter, pp. 6-21.
2010
'Duodje – specifik sameslöjd, samisk konst eller ett kreativt skapande? in Bårjås, Lulesámisk populærvitenskapelig tidsskrift fra Àrran- lulesamisk senter, pp. 103-108.
Last updated: November 29, 2021
Page editor: Anna-Karin Olsson
Source: Department of Social Anthropology