Erik Olsson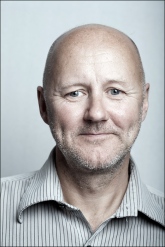 Telephone: +46 (0)8 16 38 10
E-mail: erik.olsson@socant.su.se
Room: B667
Erik Olsson is a Social Anthropologist (BA from Stockholm University 1988). He received his PhD in Communication Studies at Linköping University in 1995 (Department of Theme). Since then, he has been teaching and conducting research at Linköping University and Södertörn University College. Since 2008, Erik has been a Senior Lecturer at Stockholm University and in 2011 he became Professor of International Migration and Ethnic Relations at Stockholm University. Previous to this, Erik was a Senior Lecturer at Linköping University and involved in the development of the PhD programmes in Ethnicity (now within REMESO) and Ageing and Later Life (now within NISAL). Here, he was also for some years appointed as the head of department of Ethnic Studies and its PhD programme in Ethnicity. Erik has supervised seven PhD students at Linköping University. Moreover, Erik has been the director of CEIFO (2008-2011) at Stockholm University and has since 2012 been responsible for the Migration Cluster at the Department of Social Anthropology. Erik is supervising five PhD students at Stockholm University (of which two have already completed their dissertations).
Research
Erik Olsson has mainly focused his research on questions regarding migration and ethnicity (IMER). In his previous work, he has primarily emphasised questions about identity and social matters within the ethnicity field, for instance, for his dissertation, Erik wrote an ethnography about a multi-ethnic retirement home. This inspired his following research, which draws attention to transnational migration and diaspora. Erik has for example studied Chileans' experiences of living in exile, post-exile and (re)migration which has developed from their transit between Chile and Sweden. Moreover, Erik has participated in a number of projects focusing on ethnicity, refugees and migration and has been the director of several externally sponsored projects. Additionally, Erik has been the national coordinator in the Marie Curie (EU) funded research network CoHaB (ITN) in which three PhD students conducted research on different diaspora phenomena.
A few examples of Erik Olsson's research is recognised in the project Between country of origin and Welfare (Swedish Mellan hemland och välfärd), which emphasis Kurdish and Chilean mobilisation in exile and post-exile (funded by FAS/Swedish Research Council for Health, Working Life and Welfare, 2004-2009). Transnational educational careers (Swedish Research Council/VR 2008-2012) which engage in youths' direct (or indirect) choices of education within a transnational migration perspective. Pathways to Success (Marianne and Marcus Wallenbergs foundation, 2015-) which examines how migrants (and their children) succeed in their careers' by reaching "successful positions" within the Swedish society but also on the international arena. In addition to this, it is worth mentioning the project Welfare Practices in Transnational Social Spaces (Omsorg och service i transnationella rum, Riksbankens Jubileumsfond 2011-2014 – project leader: Annika Rabo). In this project, Erik studied the mobilisation of a Swedish community in Southern Spain as regards the Nordic associations' engagement within the Swedish networks.
Furthermore, Erik Olsson has also been active in a number of research networks and organisations. He has for example been on the board of IMER (Swedish research network on International migration and ethnic relations), the associations of Nordic Migration Research (Nordiska migrationsförbundet), the Center for Research on Bilingualism and the large European research network IMISCOE (research-network). Another example is that he carried the responsibility for the national research network about transnationalism and diaspora and TRANSMIG, a research group within IMISCOE. Erik has also been managing numerous different events and seminars within the field of migration research. Erik has for instance been in charge of the seminar series of International Migration and Ethnic Relations at CEIFO (2008-2011) and the seminar series CEIFO Seminars on Transnational Migration at the Department of Social Anthropology (2012- ) at Stockholm University. Likewise, Erik is also the coordinator of Forum for Transnational Migration (2017- ) and the seminar series about transnationality and migration hosted by the Forum, and a PhD course following the same theme as the Forum.
Selected publications
Monographs and books
2018
Olsson, E (2018), Guiden till Spaniensverige - diaspora, integration och transnationalitet bland svenska föreningar i södra Spanien, Stockholm: Stockholm University Press (in press).
2011
Zdenek U, Olsson E, Bitusikova A, Gabrielova J, Freemanova M, Bares P, Horakova M, Martinkova S, Klipa O, Korecka Z and Pojarova T (2011), Migration, Diversity and Their Management, Prague: Institute of Ethnology of the Academy of Sciences of the Czech Republic, v.v.i.
2007
Olsson E, Lundqvist C, Rabo A, Sawyer L, Wahlbeck Ö & Åkesson L, (eds.), (2007), Transnationella rum: diaspora, migration och gränsöverskridande relationer, Umeå: Boréa.
2003
Olsson, E & Narvselius Havryluyk, E (2003), East, West and what Next? Formations of identity among young people in post-Soviet L'viv, Huddinge: Södertörns högskola.
2001
Olsson, E (2001), Händelse eller process: om återmigration som frivillig återvandring, Norrköping: Merge 2001/1.
2000
Olsson, E, red. (2000), Etnicitetens mångfald och gränser, Stockholm: Carlssons.
1999
Soydan, H, Jergeby, U, Olsson, E & Harms-Ringdahl, M (1999), Socialt arbete med etniska minoriteter: en litteraturöversikt, Stockholm: CUS och Liber.
1995
Olsson, E (1995), Delad gemenskap. Identitet och institutionellt tänkande i ett multietniskt servicehus, Linköping: Linköpings universitet (LSAS no 134 – diss.) (Summary in English).
Articles
2017
2014
Olsson, E (2014) 'From Diaspora with Dreams, Dreaming about Diaspora: Narratives on a Transnational Chilean Community', Diaspora 17:3 (2008, published Summer 2014).
Olsson, E & King, R (2014) 'Introduction: Diasporic Return', (with Russell King), Diaspora 17:3 (2008, published Summer 2014).
2013
2012
2009
1999
Olsson E & Grandin, I (1999), "Bofasthetens operativsystem: Imer- och globaliseringsforskningen om livsformer och global rörlighet", Kulturella perspektiv 1999:2.
1997
Olsson, E (1997), "Att leva nära en flygplats. Chilenska migranter mellan hemland och värdland", Socialvetenskaplig tidskrift 1997:1 (Summary in English).
Chapters in monographs etc.
2018
Erik Olsson & Alireza Behtoui & Hege Høyer Leivestad (2018): Karriär på spel: Socialt kapital och karriärer för disputerade migranter i den svenska högskolan, Lund: Arkiv (bokkapitel i M. Frykman & M. Öhlander, monografi under utgivning)
2013
2012
2009
Olsson, Erik & Rabo, Annika (red.), (2009), Vem älskar Imerforskningen? Stockholm: CEIFO.
2008
Olsson, Erik (2008), "I skuggan av ett beslut: hur migration representeras i Migrationsverkets återvandringspraktik", i Gustavsson A, Olin Lauritzen S & Ödman P-J (red.), Främlingskap och tolkning: en vänbok till Charles Westin, Stockholm: Stockholms universitets förlag.
2007
Olsson, Erik (2007), "Familjens plats: Återvandring bland sverigechilenska familjer", i Eastmond M & Åkesson L (red.), Globala familjer: Transnationell migration och släktskap, Hedemora: Gidlunds.
2004
Olsson, Erik (2004), "Event or Process? Repatriation-practice and Open-ended Migration", in Frykman, M. (red.) Transnational Spaces: Disciplinary Perspectives, Malmö: Malmö University.
Öberg B-M, Närvänen A-L, Näsman, E & Olsson, E (eds.), (2004), Changing Worlds and the Aeging Subject. Dimensions in the Study of Ageing and Later Life, Aldershot: Ashgate.
2003
Olsson, E (2003), "Med väskorna packade: identitetsrum mellan Sverige och Chile", i Garsten, C. & Sundman, K. (red.), Moderna människor: antropologiska perspektiv på samtiden, Stockholm: Liber.
2000
Olsson, E (2000), Behind Doors: Social categorization in a multiethnic care setting for the elderly, Norrköping och Umeå: Merge 2000/1.
Olsson, E (2000) "Migratory Spaces: the formations of identity among Chileans in Sweden", in Arnstberg, K-O (red) "Space and Place", Huddinge: Södertörns högskola.
Olsson, E (2000), "Gemenskapens möjlighet och ensamhetens svårighet: socialitet, åldrande och migrantskap", i Allwood, C-M & Franzén, E: Tvärkulturella möten: grundbok för psykologer och socialarbetare, Stockholm: Natur & Kultur.
1999
Grandin, I & Olsson, E (1999), "Bofasthetens bojor. Funderingar kring en professor i rörelse", i Sätterlundh-Larsson, U & Bergqvist, K: Möten – en vänbok till Roger Säljö, Linköping: Linköpings universitet (Sic 39).
Teaching
Supervision Master thesis, and supervision of PhD students
Current research funding/grants
2014
Research grant "Pathways to Success: the upcoming elite among descendants of migrants in Sweden", Marianne och Marcus Wallenbergs stiftelse (project starts 2015).
Research networks
TRANSMIG, a research network within IMISCOE
Editorial assignments
Information about past activities can be found in the Department's previous Annual Reports.
Last updated: February 19, 2018
Page editor: Lina Lorentz
Source: Department of Social Anthropology