Karin Ahlberg
Karin Ahlberg
Researcher/teacher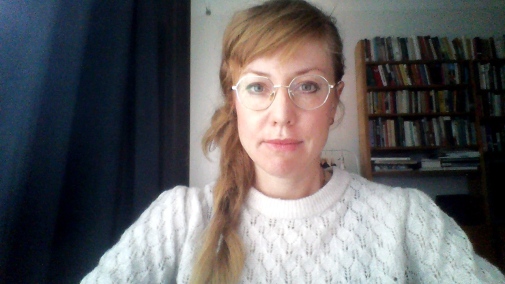 E-mail: karin.ahlberg@socant.su.se
Appointment by request
About me
Karin Ahlberg joined the Department of Social Anthropology as a researcher and lecturer in 2019. She holds a MSc in Sociotechnical System Engineering (2007) and a BA in History from Uppsala University (2007). She has MA in Social Anthropology with focus on Migration and Diaspora Studies from SOAS University of London (2009). She received her PhD from the same department in 2017. Her PhD thesis They are destroying the image of Egypt - Tourism, statecraft and infrastructures of image making, 1990-2013 examines entanglements between tourism, statecraft and national image curation in the context of contemporary Egypt. It is based on twenty months of fieldwork in Cairo in the aftermath of the 2011 Revolution. Ahlberg is turning her dissertation into a book manuscript with the working title Brand New Egypt. Between 2017 and 2018, she held a Postdoctoral Fellowship with the Department of Anthropology, University of Chicago.
Ahlberg's new research project explores the afterlife of the Suez Canal and Lessepsian migration from a more-than-human perspective.
Research interests: Egypt, the Middle East and the Mediterranean | More-than-human studies, Lessepsian/marine species migration, the Suez Canal | Politics of tourism, tourist workers, statecraft, national image curation, marketing and the politics of information | Revolutions, aftermaths and anthropological knowledge production.
PUBLICATIONS
[under review] "Hope in bright times, hope in dark times: hope, realizability and labour in Cairo's biggest tourist bazaar before and after 2011" part of a Special Issue Hope, Labour, Disconnection. (Eds.) H Pettit and J in Environment and Planning D.
[under review] "Exhausting the male body: A shock absorber between social expectations and capitalist precarity," Chapter in edited volume on Economies of the Male Body in Egypt to be published with AUC press.
2020 "Kosmologi och ontologi". I Nyckelbegrepp i socialantropologin, U. Björklund, U. Hannerz & Socialantropologiska institutionen, Stockholms universitet.
2020 w. R. Galli. " Informant". I Nyckelbegrepp i socialantropologin, U. Björklund, U. Hannerz & Socialantropologiska institutionen, Stockholms universitet.
2017 Book review. Deeb, Lara, and Jessica Winegar 2015. Anthropology's Politics: Disciplining the Middle East. Stanford, California: Stanford University Press. Social Anthropology 25(3).
2014 "On the utility of Truth in Egyptian Terrains of Necropolitics," FocaalBlog, Nov 26.
2011 With M. Bohlin, E. Arnestrand, D. Moback and F. Orwén. Handbok för Godstransporter i den Goda Staden. [Eng.: A Guide to Freight Transportation in the Good City.] Stockholm: SKL Kommentus.
2009 With C. Rommel. "Förtroende och Förvrängning: Skiftande Framställningar av det Muslimska Brödraskapet i Egypten" [Eng.: Confidence and Distortion: Shifting Representations of the Muslim Brotherhood in Egypt] Orientaliska Studier 122.
2009 With C. Rommel. "Paradoxala Förbindelser: den Syriska Politiken Gentemot Muslimska Brödraskapet och Hizbollah".[Eng. Paradoxical Relations: the Syrian Regime's Policies toward the Muslim Brotherhood and Hezbollah] Orientaliska Studier 122.
2008 With C. Rommel. "Då Islamismen talar nationalism språk – Fallet Turkiet" [Eng.: When Islamism speaks the Language of Nationalism – The Case of Turkey] Internationella Studier , issue 1. Also published in Orientaliska Studier, February issue.
2007 Webbaserad Reseplanering Utifrån ett Användarperspektiv: Förslag på en Comodal Reseplanerare för Trafiken.nu [Eng.: Web-based Travel Planning from a User Perspective, Proposing a Co-modal Journey Planner for Trafiken.nu.] (Master Thesis) Uppsala: Uppsala Universitet.
MEDIA & POPULAR CULTURE
2018 "Drömmen om en rättvis Egyptenbild. I kölvattnet av 2011 års revolution - en sjuårig turistkris" Ikaros Tidsskrift. April.
2007 With C. Rommel. "Mellanstation Damaskus – Irakier i Transit". [Eng: Stop-over in Damaskus – Iraqis in transit.] Artikel 14 (issue) 14.
TEACHING
Socialantropologi I. Den mänskliga tankevärlden: symboler, stabilitet och förändring, 7,5 hp
Socialantropologi I. Politik, konflikt och transnationalism, 7,5 hp
Socialantropologi III & Global Utveckling. Handledare Kandidatuppsatser
Last updated: September 18, 2020
Page editor: Lovisa Wahlsten
Source: Department of Social anthropology