Karin Norman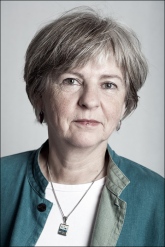 Telephone: +46 (0)8 16 20 00
E-mail: karin.norman@socant.su.se
Research
Children's everyday life and experiences of political violence in Kosovo
The aim of this planned project is to study how children in post-war Kosovo manage the political violence that has in different ways been a part of their childhood. The issues concern how experiences of violence influence children's family relations, friendships, schooling and views about their identity and sense of belonging. An important aspect of this study will be to elucidate the meanings given reconciliation and to see how children experience themselves as social persons and how they construct their images of 'the other', the Serbs and Roma. The study will focus on girls and boys of primary school age in a predominantly rural area.
Selected publications
2006
Norman, Karin. The workings of uncertainty: Interrrogating cases on refugees in Sweden, The Manchester School, T. Evens and D Handelman (eds). London: Berghahn Books.
2005
Norman, Karin. Changing family relations and the situation of children: Kosovo Albanian asylum seekers in Sweden, The Asylum-Seeking Child in Europe, Hans E Andersson et al (eds). CERGU: University of Göteborg, Sweden.
The workings of uncertainty: Interrrogating cases on refugees in Sweden. Social Analysis 49, Issue 3: 195-220.
2004
Norman, Karin. Equality and Exclusion: 'Racism' in a Swedish Town. Ethnos 69 (2).
2001
Norman, Karin. Från Dalarna till Kosovo: att följa fältet i hälarna, i Flera fält i ett, Ulf Hannerz (red). Carlssons
Norman, Karin. Recensioner i Norsk Antropologisk tidsskrift, december 2001, av M. Melhuus och S. Howell, (red): Blod tykkere enn vann? Betydninger av slektskap i Norge. Oslo: Fagbokforlaget. M. Lien, H. Lidén, H. Vike (red): Likhetens paradokser, antropologiske undersökelser i det moderne Norge, (red) Oslo: Universitetsforlaget.
Norman, Karin (med Robert A. LeVine)."The infant's acquistion of culture: early attachment reexamined in anthropological perspective". I Carmella Moore och Holly Mathews, red.: The Psychology of Cultural Experience. London: Cambridge University Press.
2000
Norman, Karin. (med Eva Poluha och Jónína Einarsdóttir). Children Across Time and Space: Social and Cultural Conceptions of Children and Children's Rights. Stockholm: Rädda Barnen.
Norman, Karin. "Phoning the field: meanings of place and involvement in fieldwork 'at home'". I Vered Amit, ed.: Constructing the Field: Ethnographic Fieldwork in the Contemporary World. London: Routledge.
1999
Norman, Karin. "Experiencing Children: Reflections on Method". I Jean La Fontaine and Helle Rystrom, eds.: Proceedings from Symposium on Children and Anthropology: The Invisibility of Children, 5-6/5 1997.
Norman, Karin. Gästredaktör för Antropologiska Studier 64-65.
Norman, Karin. Kulturella föreställningar om barn, ett socialantropologiskt perspektiv. Stockholm: Rädda Barnens förlag. Andra upplagan.
Norman, Karin. "Antropologi om barn – några frågor och reflektioner". Antropologiska Studier 64-65:4-20.
1997
Norman, Karin. Young girls dressing: experiences of exile and memories of home among Kosovo Albanian refugees in Sweden. In Beyond Boundaries:Selected Papers on Refugees and Immigrants, Vol 5. D Baxter and R Krulfeld (eds). Arlington Virginia: American Antrhopological Association.
Norman, Karin. Kindererziehung in einem deutschen Dorf, Erfahrungen einer schwedischen Ethnologin. Frankfurt/New York: Campus Verlag.
1996
Norman, Karin.`Tillhörighet i Smedjebacken´ s. 149-230 i Ann-Kristin Ekman (red.) Bortom Bruksandan. Föreställningar om kultur, historia och utveckling i Bergslagen. Stockholm: SIR
Norman, Karin. Kulturella föreställningar om barn : ett socialantropologiskt perspektiv. Stockholm: Rädda barnen.
Norman, Karin. "Phoning the Field: Experiences of Closeness and Distance in Fieldwork 'at Home'" Paper to the workshop "Getting Away? Fieldwork at the End of the Century" IVth Conference of the European Association of Social Anthropologists, Barcelona 12-15 July 1996
1994
Norman, Karin. The ironic body: obscene joking among Swedish working-class women, i Ethnos, 59: 3-4
1993
Norman, Karin. Controlling a future by admiring a past: An ecomuseum in Sweden, Ethnos, 58 (1-2).
Norman, Karin. Celebrating Nikolaus Day - Considering a German children's ritual. Ethnology 325-338 (13 s.)
1991
Norman, Karin 1991 A sound family makes a sound state: Ideology and Upbringing in A German Village. Stockholm Studies in Social Anthropology 24. ( 252 s)
1979
Norman, Karin 1979 Retorik och sociala gränser i ett terapeutiskt samhälle. AWE Gebers (152 s).
Last updated: September 6, 2018
Page editor: Lina Lorentz
Source: Department of Social Anthropology