Per Drougge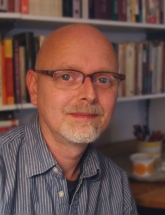 E-mail: per.drougge@socant.su.se
Per Drougge received BA degrees in Social Work (2001) and Social Anthropology(2003) from Stockholm University. Since 2004 he has been a PhD candidate at the Department of Social Anthropology, and is currently working on a dissertation project with the preliminary title "Movable Monasticism: Buddhist Modernism and the Monastic Ideal", an ethnographic exploration of Buddhist monasticism in relation to the assemblage of religious idea(l)s and practices commonly referred to as "Buddhist modernism". This multi-sited study is based on fieldwork in Japan, India, The United States, and Europe.
Drougge also has a strong interest in medical and psychological anthropology, especially the area where soteriological and therapeutic practices and experiences overlap. In this context he has done research on the relation between secularized mindfulness-based therapies and theravāda Buddhist meditation, and on Naikan, a very different form of "Buddhist psychotherapy", and the way it is interpreted and practiced in Japan and Europe.
For additional information see http://www.drougge.eu
Research
Moveable Monasticism. Aspects of Buddhist Modernism
Recent decades have witnessed a booming interest in various forms of Buddhist thinking and practice outside Asia. Buddhist symbols, ideas and concepts have become part of a Western cultural mainstream, often in more or less hybridized, eclectic, or syncretic forms. At the same time, different forms of Buddhism have become established as living, religious traditions in the West. The dissertation project Moveable Monasticism. Buddhist Modernism and the Monastic Ideal is an ethnographic study of contemporary Rinzai Zen Buddhism as a transnational phenomenon, based on fieldwork among practitioners in different settings on three continents. As the title suggests, I focus on (quasi) monastic forms of practice, and the study can also be seen as a contribution to the somewhat neglected field of monastic ethnography. As such it is also an example of what anthropologists sometimes call 'studying up' – in this case a group of religious virtuosi. I am particularly interested in emerging forms of monasticism, and the breakdown of the traditional lay/monk (or /nun) dichotomy, and how this relates to the complex phenomenon variously referred to as "Buddhist modernism", "Modernist Buddhism", and "Protestant Buddhism".
Selected publications
2011 (forthcoming)
"Lost in Translation. Om sekulär Mindfulness och buddhistisk meditation."
"Barn och buddhism(er)". In J. Berglund and G. Gunner (eds.): : Barn i religionernas värld. Stockholm: Liber.
2009
Review of Sarah LeVine and David N. Gellner: "Rebuilding Buddhism. The Theravada Movement in Twentieth-Century Nepal". Ethnos 1:2009
2008
Västerländska buddhister, globaliserade buddhismer (accepted for publication by CHAKRA: Tidskrift för indiska religioner.
Review of Sally McAra: "Land of Beautiful Vision". Social Anthropology/Anthropologie Sociale 16:3
Review of Cristina Rocha: "Zen in Brazil". (accepted for publication by Chakra: Tidskrift för indiska religioner.
2007
(Under review) Pain, Guilt, and Gratitude: Sensory Deprivation and Emotions in Naikan.
Review of Chicako Ozawa de-Silva: "Religion and Psychotherapy in Japan". Ethnos 72:4 2007
2006
Formgivning och formalia. Riktlinjer för uppsatser och hemskrivningar. Stockholms universitet: Socialantropologiska institutionen. (available at www.socant.su.se)
Naikan - From Religion to Therapy and Back again? Anthropology News. April 2006
Last updated: October 18, 2012
Page editor: Lina Lorentz
Source: Department of Social Anthropology