Ruben Andersson
Associated researcher, Associate Professor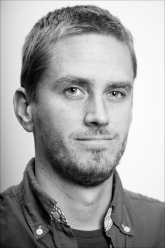 E-mail: ruben.andersson@socant.su.se
Ruben Andersson is an associate professor at the Department of International Development, University of Oxford, and an associated researcher at Stockholm University's Department of Social Anthropology. He obtained his PhD in anthropology from the London School of Economics in 2013 for the thesis Clandestine migration and the business of bordering Europe. The PhD investigated irregular migration from West Africa towards southern Europe, in particular Spain, and was based on mobile research across the Spanish section of the Euro-African borderlands, from Spain's North African enclaves of Ceuta and Melilla to the frontiers and capital cities of Senegal and Mali.
The aim was to explore the interfaces where the diverse 'industry' working on this form of migration meets and interacts with its target – the clandestine migrant. Ruben has drawn on his background in journalism in both research and writing, and has written extensively for the media besides his academic publications. Ruben is currently engaged in a research project on risk and danger in international intervention, focusing on the conflict in Mali, West Africa and similar crisis settings in other regions.
Selected publications
No Go World: How fear is redrawing our maps and infecting our politics, Oakland: University of California Press (forthcoming)
2018
Profits and predation in the bioeconomy of border controls, Public Culture 30 (3) 413-39.
Europe's failed "fight" against irregular migration. In M Kaldor, I Rangelov and S Selchow (eds) EU global strategy and human security: Rethinking approaches to conflict, Abingdon: Routledge.
La lotta all'immigrazione irregolare messa in atto dall'Europa: note etnografiche su un'industria pericolosa. In R Schmitz-Esser (ed) Venezia nel contesto globale, Venice: Centro Tedesco di Studi Veneziani.
Migration. In T Allen, A Macdonald and H Radice (eds) Humanitarianism: A dictionary of concepts, Abingdon: Routledge.
Back to the soil. Comment on S. Moland, Sedentary optics: Static anti-trafficking and mobile victims, Current Anthropology, 59 (2) 115-37.
2017
2016
Irreguljär migration och Europas gränskontroller: en etnografisk analys, Report for Delmi, Sweden's Migration Studies Delegation.
Brexit referendum: First reactions from anthropology. Contribution to joint special section, Social Anthropology, 24 (4) 478-502.
Warum Europas Konzept der Grenzsicherung gescheitert ist', Friedrich Ebert Stiftung.
Why Europe's border security approach has failed – and how to change it, Policy paper for the LSE/Friedrich Ebert Stiftung Berlin report on human security.
Here be dragons: mapping an ethnography of global danger, Current Anthroplogy.
Europe's failed 'fight' against irregular migration: ethnographic notes on a counterproductive industry, Journal of Ethnic and Migration Studies.
Hardwiring the frontier? The politics of security technology in Europe's 'fight against illegal migration'. Security Dialogue, 47 (1): 22-39, DOI 10.1177/0967010615606044.
The global front against migration, Anthropology of This Century (15).
2015
2014
2012
2010
Wild man at Europe's gates: the crafting of clandestines in Spain's cayuco crisis. Etnofoor 22(2):31-49.
2005
Media
2016
2015
2014
Research funding
AXA Postdoctoral Fellowship, 2014-2016, for research project on risk in international interventions, hosted at LSE.
Last updated: September 24, 2018
Page editor: Lina Lorentz
Source: Department of Social Anthropology