Sadia Hassanen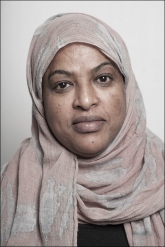 E-mail: sadia.hassanen@socant.su.se

Sadia Hassanen CV (473 Kb)
Born in Eritrea, Sadia Hassanen PhD, received her BA in social sciences majoring in Sociology from Umeå University, Sweden, in 1996, her Master Degree in Epidemiology and Public Health Sciences (EPHS), in the International School at Umeå University 1997, and her PhD in Human Geography at Stockholm University in 2007. Between 2009 and 2012, Sadia was a postdoctoral fellow at CEIFO (Centre for Research in International Migration and Ethnic Relations) & Department of Social Anthropology, Stockholm University.
Sadia Hassanen, Dawit Okubatsion Woldu, Rahma Mkuu. The effects of migration on the practice and perception Female Genital Cutting (FGC) among the Horn of Africa's immigrants in Melbourne Australia. AIMS Public Health , 2019, 6(1): 67-78. doi: 10.3934/publichealth.2019.1.67
Research Interests in Human Mobilities
Horn of Africa peoples and their diasporas, especially in Sweden
International migration movements
Forced migration, especially refugees and asylum seekers
The impact of migration on gender roles, especially among African migrants and refugees
Remittance sending from the senders' perspective
The role of social and transnational networks on decision making amongst refugee migrants in countries of the North and the South
Conferences, workshops
2016
"A good future for all in Eritrea" presented at Eritrean Afar State in Exile (EASE) Restoring the Dignity of the Eritrean Afar People Democratically "Eretriyah Qafarih Konnabna Demokraasil Daabisenno", September 1.
Last updated: March 20, 2019
Page editor: Lina Lorentz
Source: Department of Social Athropology