Thomas Jacobsen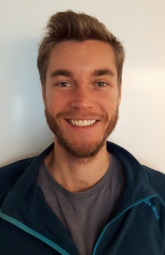 Telephone: +46 (0)8 16 26 63
E-mail: thomas.jacobsen@socant.su.se
Room: B698
Thomas Jacobsen is a PhD student at the Department of Social Anthropology since September 2016. He received his master in Social Anthropology at the University of Oslo in 2014 with the thesis: "Saving Turtles; rehabilitating practices and enactments".
Research
My PhD project will focus on animal husbandry practices in the city of Nairobi, Kenya. With an interest in how animal-human relations play out in the context of the anthropocene and the increased urbanisation of the world, my focus is on animal husbandry practices within the city of Nairobi, Kenya. With increasing migration from rural areas to the city, and with agricultural practices such as pastoralism or chicken, rabbit or pig keeping taking place within the confines of a congested city, urban animal husbandry becomes a contested phenomenon.
Enacted variably as a threat to public health with its potential for spreading zoonotic diseases, as a technology for ensuring a stable income and middleclass status, or as a meaningful nexus of personal ties and affections between humans and animals, husbandry practices figure within contrasting narratives and an ecology of different practices.
My aim is to follow different groups of people who work with domestic animals in the city and try to discern how urban domestic animals take shape within different sets of practices. Some of my research questions are: how do animals in Nairobi become a threat to public health? How do people care for their animals in .Nairobi? How are animals in Nairobi shaping space and time in that city? In relation to domestication what kind of domus is a city? How do animal husbandry in Nairobi give rise to a number of secondary practices that deal with space shortage?
My questions are inspired by a growing body of literature that actively try to include other living beings and non-humans in our analysis of culture and sociality. My hope is that my research will contribute to valuable discussion on how the most anthropogenic of landscapes are made up of and shaped by a variety of different living beings and how we might better attune our anthropological toolkit in picking up on this.
Last updated: September 6, 2018
Page editor: Lina Lorentz
Source: Department of Social Anthropology