Forskarseminarier HT-12
Forskarseminarier HT-2012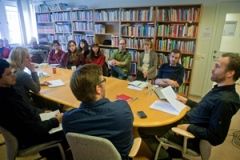 The thematic thread for the seminars this semester is environmental anthropology. The seminars will be concerned with the possible contributions of social science and anthropology to contemporary environmental issues. How can we contribute with relevant, empirically based knowledge without getting stuck in moralization or common-sensical understanding? The task will be to identify the issues that could invite a more thorough involvement by social anthropologists, given our theoretical concepts and bundle of methods. Environmental problems involve issues of unintentional consequences, questions of the relation between ideas, awareness and practice and of the overarching structures of power that constrain our activities and their practical effects on the environment.
The majority of the seminars will relate to this theme, whereas others will not. The seminars unless otherwise stated will be held in English.
All welcome!
Welcome!
Gudrun Dahl, gudrun.dahl@socant.su.se
Mark Graham, mark.graham@socant.su.se
Calendarium
September
Monday September 10, 1-3 pm, B 600
Philip Malmgren presents some issues from his thesis manuscript: The Green Labyrinth: Environment, Politics and Organization in Mexico.

Monday September 17, 1-3 pm B 600
Dr Asta Vonderau from the University of Mainz will talk about her work on "Post socialist transformation and Europeanization in Eastern Europe".

Monday September 24, 1-3 pm B 600
Marius Billy presents: "Politics of Culture? Politics of Development? Ethnicity, Culture and the meaning of Participation (the case of Batwa in the Congo Basin)".

The research study concerns the politics of development and African hunter-gatherer groups in the Congo Basin rainforest. It explores issues of Batwa representation in negotiations over sustainable development. The study emphasis politics and power on the one hand, domination and resistance on the other, from an anthropological perspective. Using comparable material from forest people in the Amazon, the study explores the implications and impacts of development, according to indigenous visions of knowledge-based societies. Understanding the limitation of social science research in relation to ethnicity, nationalism, and culture underline the complexity of global issues in relation to conflict resolution, exclusion and development outcomes.
October

Monday October 1, 3-5 pm, B 600
Mukul Sharma "Caste, Dalits and Indian Environmental Politics"

Indian environmental politics, frequently conceptualized and expressed in terms of India's glorious past, tradition and culture, often render questions of caste and dalits invisible. However, it needs to be recognized that caste is one of the central categories that frame environmental politics. Caste and Dalits in India today bring forth not only new dimensions on both environment and Dalits, but also helps us in redefining certain key categories such as development, modernity, community, livelihood and social movements. Mukul Sharma is the prize-awarded author of several books: Green and Saffron: Hindu Nationalism and Indian Environmental Politics (Permanent Black, Delhi, 2011), Human Rights in a Globalised World: An Indian Diary (Sage, Delhi, 2010) and Contested Coastlines: Fisherfolk, Nations and Borders in South Asia (Routledge, London, 2008).

Monday October 8, 1-3 pm, B 600
Dr Anette Nyqvist talks about "Anthropological Perspectives on the Illegal Hunt of Predators- the Swedish conflict over wolf hunting"

I have been asked to talk about my participation in a study presented in a report called "Poaching for large predators – conflict in a lawless land?". In 2006 I was contracted by The Swedish National Council for Crime Prevention to take part in their research project on the phenomenon of predator poaching in Sweden. The aim of the study was to broaden the knowledge about predator hunting in Sweden in order to suggest crime preventive measures. My task within the research group was to find out more about the attitudes of hunters, reindeer herders and livestock owners towards predators and towards illegal hunting of them. At this seminar I will talk about the project and research, my contribution to the research and what the study lead to. I will also bring up for discussion some of the challenges of conducting research in multidisciplinary settings, of ethnographically studying "criminal behavior" and of conducting research in and of a highly political and polarized issue.

Monday October 15, 1-3 pm, B 600
Stephan Palmié, University of Chicago, during the year guest-researcher at Swedish Collegium for Advanced Study "Historical knowledge and its conditions of impossibility"

Ever since the emergence of modern forms of historicism in the course of the nineteenth century, historical knowledge has become premised on the dual assumption of an objectively given past distanced from the present across measurable, irreversible time, and the potential for its recovery through an evidentiary regime that transforms aspects of the phenomenologically given world (objects, texts, photographs, etc.) into indexically conceived signs or traces of the past. By the same token, the semiotic ideology underlying contemporary historiography rules out non-indexically mediated types of evidence, however morally plausible these may come to appear to specific communities of interpretation, and consigns them to the realm of the non-historical. In discussing to what extent the utterance of mediums of spirits of the enslaved in Afro-Cuban religious praxis might be brought under the same analytical umbrella as nineteenth century American slave narratives, this paper seeks to explore the conditions of impossibility that contemporary historiography imposes upon representations of the past that its epistemic conventions relegate to the realm of the iconic (memory) or symbolic (fictive).

Monday October 22, 10-12 am, B 600
Susann Ullberg: Final discussion (Slutseminarium) of thesis manuscript: "Watermarks: Flooding and Memoryscape in Santa Fe City, Argentina". Examiner: Åsa Boholm.
This study problematises the idea that people who live in societies in strain develop social resilience to hardships through processes of adaptation. Questioning such presumptions about social behaviour and direct causes, the inquiry focuses on those social, cultural and political processes that put people at risk for disaster in the first place. This is carried out by exploring the social, political and material webs through which people make meaning out of past experiences of disaster. The research is ethnographically situated in Santa Fe City in the northeast of Argentina, located in between the Paraná and Salado rivers, where translocal and transtemporal ethnographic fieldwork has been conducted between the years 2004-2011. Here, disastrous flooding has been a recurrent problem since the time of the city's foundation in colonial times. The flood that occurred in 2003 is deemed to be the worst of them all however. By analysing how past floods are collectively remembered and forgotten in different social and organizational settings, it is argued that these social processes configure a specific flood memoryscape. This is produced through the reproduction and articulation of different social memories as well as of forgotten events, of which some are more dominant than others. It is concluded that the flood memoryscape in Santa Fe has contributed to a normalised understanding of disastrous flooding among urban residents and in bureaucratic organisations, hence, reproducing social vulnerability more than producing resilience.
If you are interested, please contact Susann Ullberg who will provide you with the seminar paper.

Monday October 22, 1-3 pm, B 600
Professor Åsa Boholm, Gothenburg University " The Concept of Risk in the Context of the Halland Ridge Environmental Crisis".

In this seminar I will present some of my work in the area of risk. The seminar addresses conceptual, theoretical and methodological challenges in the study of risk issues. The contested Hallandsås railway tunnel will be used for illustration. This case involves numerous risk issues of various kinds that have engaged a broad spectrum of organizational stakeholders (government authorities and agencies, courts, experts, the media, and NGOs such as environmental organizations and farming associations).

Monday October 29 1-3 pm, B 600
Dr Miguel Montoya and Associate Professor Monica Lindh de Montoya: "Reconstruction after Environmental Disaster: Theory and practice after landslides in Venezuela, with some thoughts on postwar reconstruction in Bosnia".

As the disasters that precede it, reconstruction is a multifaceted process involving environmental, economic, political and social perspectives. In this seminar we first point out factors that shape reconstruction efforts and outcomes, and then discuss fieldwork findings from Vargas state in Venezuela where a mudslide disaster took place in 1999. A new project on postwar reconstruction in Bosnia will also be presented.

November
Thursday November 1, 1-3 pm, B 600
Professor Matthew Engelke, London School of Economics and Political Science ""Not mine, not mine": On the Coffin Question in Humanist Funerals"

This is a paper about the materiality of death for unbelieving moderns. Based on a year of fieldwork with humanist celebrants—men and women who conduct "non-religious funerals"—it maps out their attitudes toward the presence of the dead and the coffin. For many of these celebrants, the coffin raises questions of how to balance certain conceptions of reason and reality (it's only a body…it's only a wooden box) with ostensibly conflicting conceptions of affect and the senses (it's not just a body…it's a loved one). And through this case study, we gain important insights into the relationships between materiality and belief.
Matthew Engelke is a Reader in the Department of Anthropology at the London School of Economics. He is the author of A Problem of Presence: Beyond Scripture in an African Church, which won the 2008 Clifford Geertz Prize and the 2009 Victor Turner Prize. He is the editor of the Journal of the Royal Anthropological Institute.


Monday November 5, 1-3 pm, B 600
Professor Kirsten Hastrup, University of Copenhagen: "The North Water: The Co-Constitution of Nature and Society"
The North Water is the name of a so-called polynia, which is a patch of Arctic sea that is more or less open or only covered by a thin layer of ice for most of the year. The North Water has fed the northernmost peoples on the globe, the people of the Thule District (Avanersuaq) in Greenland, for thousands of years, and it still does – as is evident from my recent, successive fieldworks in the region. In this presentation, I shall explore the social implications of living on the edge between ice and sea, and concomitantly on the edge between nature and society, and between the animal and the human worlds, seen to co-constitute each other. These years the water is opening up at increasing speed, the edge is becoming increasingly fragile, and the biotope is changing. The new race for the Polar Sea and its presumed riches in the form of oil runs right through the North Water and disturbs both animals and hunters, as does the new submarine turbulence owed to changing temperatures. Focusing on the North Water enables us to see how it not only predicates people's lives and movements but also scale it. By being in itself a fluid form, the North Water highlights the temporariness of social forms in the High Arctic – and the general impossibility to think of an environment as external to the social.

Monday November 12, 1-3 pm, B 600
Associate Professor Mark Graham: "The Future of the World: Australian perspectives on Climate Change".

The title of the seminar is taken from a session at the recent Australian Anthropological Society conference in Brisbane that discussed a range of topics centred on issues of climate change, environmental degradation and the reactions of human agents. The seminar is built around several themes:
Feral cats in Australia, the 'colonisation' of cities by 'rural' species, the relationship between folkmodels and scientific pronouncements on climate change, the relationship between environmental issues and climate change, and questions pertaining to culture, nature and the nation. Most of the examples are taken from Australia so there will be quite a lot about kangaroos, dingoes, and such creatures, not to mention pictures of warm sandy beaches and the Australian Outback. A main theme I want to address is the relationship between our understandings of what Nature is and how this is expressed, sometimes obliquely, in how we understand things such as our relationships to animals and to places.

Monday November 26, 1-3 pm, B 600
Associate Professor Beppe Karlsson: "What is political ecology?".

Political ecology is a trans-disciplinary research field addressing questions relating nature-society interrelations, often with focus on struggles over land and natural resources. A commonly asked question is whose use of, claims to, or perceptions of the environment prevail. Power asymmetries and social inequalities are hence critical points of departure and many scholars in the field pursue a kind of emancipatory engagement with subalterns or marginalised people, whose livelihoods depend on the local resource base. Capital accumulation, and political economy more generally, usually provide the overall framework for understanding such instances of dispossession and displacement of local communities by global forces of state and market. In this seminar I hope to give a sense of what political ecology is and what kind of research people in the field carry out. The point of departure is a text that I am working on for the International Encyclopedia of the Social & Behavioral Sciences. Contact Lina Lorentz for a copy of the paper.

December
Monday December 3, 2-3 pm, B 600
Dr. Lissa Nordin talks about the views held by the research council FORMAS in relation to social science and environmental research. (In Swedish)

"Om Formas och den samhällsvetenskapliga (miljö)forskningen"

Jag kommer att ge en allmän presentation om Formas uppdrag och verksamhet men också presentera en utvärdering som gjorts om den svenska samhällsvetenskapliga forskningen om hållbarhet (och miljö). Såsom ansvarig för samhällsvetenskapliga frågor på Formas vill jag arbeta för att få in fler samhällsvetenskapligt orienterade ansökningar till forskningsrådet och vill gärna diskutera med er antropologins möjliga (och omöjliga?) bidrag till de verksamhetsområden som stödjs av Formas.

Wednesday December 5, 1-3 pm, B600
Associate Professor Paul Nadasdy, Cornell University: ""Repugnant to the Nature of the Straight Line:" Non-Euclidean Geometry, Conventionalism, and the Ontological Turn in Anthropology"

In her multiple award winning book, Do Glaciers Listen, Julie Cruikshank juxtaposes different understandings of the massive glaciers that straddle the southern Alaska-Yukon borderlands: they are at once the physical entities studied by contemporary glaciologists, the forbidding symbols of sublime nature celebrated by the Romantic poets, and the powerful sentient beings encountered by indigenous Tlingit and Athapaskan travelers. In her analysis, Cruikshank refuses to privilege – or dismiss – any particular view, arguing that the erasure of worlds entailed in such a dismissal is the essence of colonialism. Instead, she treats the worlds evoked by Tlingit storytellers as having the same ontological status as those brought into being by the narratives of climate scientists.

Ontological agnosticism of this sort has become increasingly common in anthropology of late - including in some strands of environmental anthropology. The burgeoning interest among contemporary anthropologists in questions of ontology has given rise to talk about an "ontological turn" in the discipline. Although many view the new focus on ontology as theoretically productive (and politically necessary), others – especially those who champion anthropology's status as a science – view it as a threat to the discipline. In this paper, I examine turn-of-the-20th-century philosophical debates surrounding the invention of non-Euclidean geometry to show that Cruikshank's brand of ontological agnosticism is hardly confined to the postmodern social sciences. I then suggest that it was those same debates that inspired French philosopher and sociologist Lucien Lévy-Bruhl to develop a new approach to the anthropological study of knowledge, kicking off a century of debate and leading, ultimately, to our contemporary interest in questions of ontology.

Monday December 10, 1-3 pm, B 600
Carole Crumley, Visiting Professor, Uppsala University and SLU (Uppsala): "Lessons Learned in Schools: What Historical and Political Ecology can Offer the Future"

Theoretical frameworks are necessary tools for understanding the complex past, present, and future of the human-environment relation. What is less clear is how these 'academic' frameworks can yield insights that would improve the human-environment condition. Anthropology, which celebrates both the diversity of human cultures and the unity of humanity, must clarify and amplify its core message; can 'mere theory' help?

Monday December 17, 3-5 pm, B 600
Seminar on applications for external research funding
Professor Gudrun Dahl's earlier announced seminar "On Problems of Interdisciplinary Communication in Environmental Research" will take place at a new date.
Senast uppdaterad: 30 maj 2017
Webbredaktör: Karin Alvarado Lönberg
Sidansvarig: Socialantropologiska institutionen