Välkommen till höstens CEIFO-seminarier!
Måndagar 13.00–14.30, rum B600, Socialantropologiska institutionen, Stockholms universitet.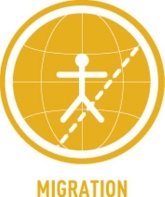 Listan uppdateras kontinuerligt.
September
Research and CEIFO seminar
September 19, 13.00–14.30, B600
Alexandra Schwell, Visiting Professor, Department of Cultural Anthropology, University of Hamburg
Borders as Imaginations and Institutions of European Security
One of most important symbolic function of national borders is based on the fact that they promise security to the inhabitants of a specific territory. Border controls and the idea of the nation state are inextricably intertwined. Crossing the border thus for the nation state becomes an instrument of power as one of the main purposes of borders is to categorise and to classify travellers, migrants, those who are welcome and those who are not.
In summer 2015, the Dublin regulations have been virtually suspended. As a result, more and more states have been reinstating border controls and started building fences at internal Schengen borders, sometimes openly contradicting the principles of the Schengen zone. Simultaneously, right wing movements and threat scenarios are on the rise, increasing an already ongoing securitization of the Muslim Other.
Against the backdrop of past fieldwork and recent examples, the presentation will elaborate on the meaning of borders and border functions and on imaginations, institutions and performances of European security and fear.
Dr. Alexandra Schwell is Visiting Professor at the Department of Cultural Anthropology at the University of Hamburg. She obtained her PhD in Comparative Cultural and Social Anthropology from the European University Viadrina in Frankfurt (Oder). Research interests include border studies, anthropology of security, anthropology of the political, and Europeanization. She was work package leader in the FREE project ("Football Research in an Enlarged Europe", FP7) and is subproject leader within the "Doing World Heritage" project (funded by the Austrian Ministry of Science, Research, and Economy).
CEIFO seminar
September 26, 13.00–14.30, B600
Sanaa Alimia, Zentrum Moderner Orient, Berlin
Narratives of Fear for Pakistan's Afghan Refugees: Discrimination, Detention, and Deportation
I carry my identity card with me at all times. Even when I sleep.
Interview, Peshawar (April 2016).
Borders are constructed and indeed policed with the very feeling that they have already been transgressed: the other has to get too close in order to be recognized as an object of fear, and in order for the object to be displaced.
Sara Ahmed, 'Affective Economies', Social Text, 22 (2004):2, 132.
In Pakistan, as is the case elsewhere, the border is not simply situated at a geographic space, rather it is situated in individuals and groups and it is something that is felt.
Pakistan's long-standing Afghan refugee population are increasingly constructed as the dangerous mobile border. However, historical legacies of colonial boundary drawing, contemporary globalised wars in Afghanistan and Pakistan's north-western areas, and ethno-federal structures of discrimination within Pakistan mean the experience of 'bordering' is also felt by Pakistan's devalued and quasi-citizens, most notably Pashtuns from the Federally Administered Tribal Areas (FATA) and parts of Khyber Pakhtunkhwa and Balochistan. In the 2000s and 2010s, in the context of the 'War on Terror', being positioned on the spectrum of the 'Afghan/Pashtun' border is to be subject to increased forms of violence – including military operations, drone warfare, internal policing, and routine harassment and discrimination.
Through the analysis of specific cases of stop-and-searches, check-posts, arbitrary detention, and, for Afghans, coercive repatriation schemes in Peshawar, Karachi, and Islamabad, this paper draws out the ways in which everyday life and mobility is laced with fear and uncertainty for these 'bordered bodies' (Afghan refugees, undocumented migrants, and devalued and quasi-citizens in Pakistan) – an experience that is also intersected by gender, class, and ethnicity.
However, by focusing on the cases of mass arrests and deportations of Afghans at various junctures in 2010–2016, the paper also draws out the ways in which the norms of the territorial nation-state mean that non-citizen Afghans exist in a different type of vulnerability, where the intention of the state (and supporting international actors) appears to be to directly and indirectly enforce repatriation to Afghanistan. If sovereign power is contingent upon repeated 'performances' upon subjects, this paper explores how the state creates emotional responses via day-to-day harassment, mass arrests, and deportation with the aim of coercing them to leave the country. Through the analysis of narratives of fear that circulate among Afghans in Pakistan, this paper explores how more and more Afghans are affected to leave Pakistan.
October
Research and CEIFO seminar
October 17, 13.00–14.30, B600
Tom Scott-Smith, Associate Professor of Refugee Studies and Forced Migration, Refugee Studies Centre, University of Oxford
Emergency shelter and the return of the refugee camp: reflections on a new European infrastructure
The experience of forced displacement is profoundly shaped by where people find shelter. The most urgent concern for migrants is how to find safe and stable spaces in which to live, rest and sleep, both during their journey and when they arrive at their destination. Tents and camps dominate media images of forced displacement, but forced migrants find shelter in many other ways. They may make use of abandoned buildings, stay on the floors of friends and relatives, find rest in self-built shelters, or sleep under trees in the natural environment. Some may find themselves placed in reception centres and immigration detention facilities against their will; others may be housed in specially created spaces, such as 'villages' made from shipping containers or IKEA-designed prefabricated shelters. The recent 'refugee crisis' has led to a proliferation of emergency shelter in these multiple forms, as well as their collection together in camp-like environments. This seminar asks how this phenomenon might be studied and conceived, suggesting two theoretical tools for making sense of the world of emergency shelter: 'low modernism', which applies to the design of many new shelters, and 'sticky infrastructures', which describes how these forms are connected.
Tom Scott-Smith is Associate Professor of Refugee Studies and Forced Migration at the Department of International Development, University of Oxford, and Fellow of St. Cross College. He specializes in the ethnographic and historical study of humanitarian relief and its impact on the lives of refugees. He is currently finishing a monograph on the history of humanitarian nutrition, entitled On an Empty Stomach: the Humanitarian Approach to Hunger, and is beginning a new project on emergency shelter. Before coming to academia, Tom worked as a development practitioner in the Middle East and Sub-Saharan Africa.
CEIFO seminar
October 24, 13.00–14.30, B600
David Gunnarsson, PhD in Ethnology, Stockholm University and Södertörn University
Guest in Sweden: Regimes of Truth, Conditional Self (Re)Presentations and National Belonging in the Guided Tours of a Mosque in Stockholm
This presentation explores the regimes of truth surrounding Muslims in Sweden. The main focus lies on the production of knowledge regarding Muslims in the context of the guided tours of a mosque in Stockholm. Special attention is given to how regimes of truth regarding Muslims inform the conversations during the visits, how they are debated in this particular arena and how that is dependent on positionality.
The central results concern the fact that the guides see the tours as a chance to alter other stories about Muslims and allow the visitors who tour the mosque to hear something that is not mediated or taught in school; however, they experience difficulties in terms of gaining credibility with regard to their presentation of alternative stories. The guides, and hosts, use their private lives to explain their position in Sweden, but the visitors also expect them to expose their personal opinions regarding how they, as Muslims, would act in morally difficult scenarios; thus, the tours present a situation where the visitors seem more comfortable than the hosts. Another significant result is that both the guides and visitors expressed the importance of the tours becoming a respectful meeting place. Religiosity, religion and secularism seem in themselves to represent otherness. What is respectful in practice, however, is not very clear. There is an ongoing debate in Swedish society concerning whether it is respectful to shake hands with a Muslim in a working situation, as is customary in Sweden. Moreover, the showing of respect is given a gender dimension on the tours, since the main way to perform respect is for every woman to wear a robe when entering the mosque. Respect as a practice seems to be mired in social inequality.
It seems difficult to become a guest if you are simultaneously appropriated the position of a Swede, and difficult to pass as a host if you position yourself as a Muslim.
November
CEIFO seminar
November 28, 13.00–14.30, B600
Final discussion (Slutseminarium)
Tekalign Ayalew, PhD student, Department of Social Anthropology, Stockholm University
Struggle for Mobility. Diasporic practices and High-risk Migration pathways of Refugees from the Horn of Africa
The current 'migration and refugee crisis' across the Mediterranean region, particularly as represented via images of human suffering and African migrants' boat tragedies, has attracted media, public, academic and political attention. However, less is known about the conditions that shape overland migration from the Horn of Africa and migrants' experiences before, during and after they arrive in northern European destinations. Long journeys across countries in political crises (for instance Libya), vast deserts and high seas are dangerous and fatal. But migrants' vulnerability levels vary according to individual profile: age, gender, religion and access to finance – in the diaspora or countries of origin – needed in case of kidnapping for ransom or imprisonment en route. Based on ethnographic fieldwork conducted in Sweden, Italy, Sudan and Ethiopia, 2013-2015, this study examines migrants' subjective energy and collective practices in producing and appropriating networks and infrastructures that help them survive vulnerability and perpetuate overland migration, despite Europe's creation and fortification of internal and external borders. Ethnographic accounts reveal complex factors and dynamic conditions behind the journey. This dissertation depicts how Ethiopian and Eritrean migrants negotiate and navigate impeding and facilitating institutions and actors while organizing various stages of their mobility: departures, transit, and arrival in Sweden. I attempt to explore community, historical and cultural dimensions and social forms of organizing 'irregular migration' and practices of human smuggling. The study tries to unpack new insights into how the facilitation of such irregular mobility creates, expands and sustains a collective system and community of knowledge – embedded in transnational social spaces, reciprocal exchange and diasporic practices – that strive to bring refugees and migrants to 'safety and security in Europe'.
Examiner: Nauja Kleist, Senior Researcher, Danish Institute for International Studies
Senast uppdaterad: 18 november 2016
Webbredaktör: Lina Lorentz
Sidansvarig: Socialantropologiska institutionen