Tomas Cole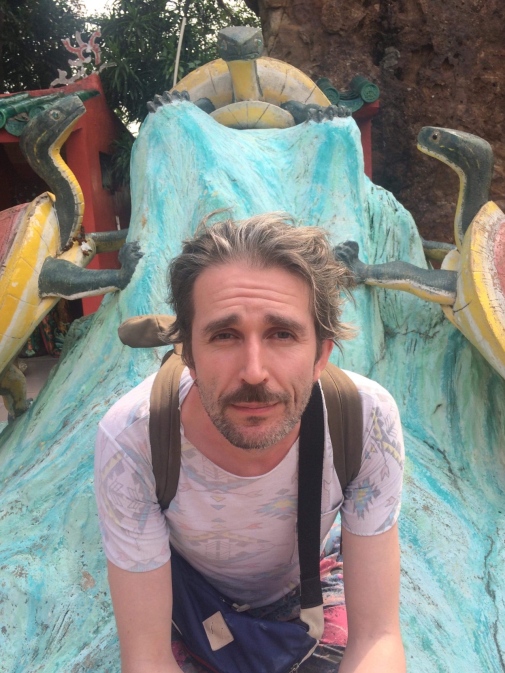 Telefon: 08-16 22 40
E-post: tomas.cole@socant.su.se
Rum: B614
Tomas Cole joined the Department of Social Anthropology in September 2015. Prior to coming to Stockholm He received his MSc in anthropology from the University of Copenhagen, Denmark in 2014 with the thesis: In God's Hands – Living with Disability and Dependency Among Karens residing in a Refugee Camp in Thailand. This thesis explored the lived experiences of armed conflict in the Thai-Myanmar borderlands and the contradictions between ideals of care and independence among disabled ex-soldiers of the Karen National Liberation Army (KNLA) from Southeast Myanmar who were living as refugees in Thailand.
He also holds an MPhil in Psychology from NTNU in Trondheim, Norway where wrote about the phenomenology of autism.
Research
Possessed Earth: Power and Possession in the Salween Peace Park of Southeast Myanmar
His current research has taken him across the border to the de-facto autonomous zone of Kawthoolei, at the frayed edges of Southeast Myanmar, which has been caught up in over 70 years of protracted armed conflict. In this project, entitled, Possessed Earth: Power and Possession in the Salween Peace Park of Southeast Myanmar, he follows indigenous people and environmental activists' in their struggles to transform the (former) warzones in the Papun hills into an indigenously run protected zone dubbed The Salween Peace Park. This protected area is re-scaling and translating indigenous land possession practices and ethical-political cosmologies into state and conservation policy as they attempt to re-possess and re-territorialise these contested lands to become a space for "all living things sharing peace". In the process these ensembles of activist and indigenous peoples are unsettling many taken for granted conceptions of how sovereignty, conservation, revolution and peacebuilding is and can be practiced in Myanmar and beyond.
Publications
Teaching
Economy: Value, Resources and the Environment (2016-ongoing)
Culture in Armed Conflict, Uppsala University (2020)
Political Ecology: Land Use and Natural Recourses in a Local to Global Perspective, Geography, SU (2019)
BsC Thesis supervision (2018)
Migration, Culture and Diversity (2015)
Conferences and workshops
2019
Paper "Liberation Conservation" presented at Varieties of Peace conference Jakarta, 22-24th October.
Co-organiser and Presentation of a Paper at Conference panel on "'development' appropriation in Myanmar: partnership, contestation", Euroseas 2019, Berlin
Paper: "Liberation Conservation: peace traps and revolution by other means in the Salween peace park" Presented at land, law, and Nationalism in Myanmar Workshop, Stockholm University and Vitterhetsakademien, stockholm, 24-26th April
Member of the organising committee, International Workshop on Land, Law, and Nationalism in Myanmar, Stockholm University and Vitterhetsakademien, Stockholm, 24-26th April
2018
Paper 'Spectral Landscapes: Domesticating the ghosts of colonialism, conflict, and climate change' presented at EASA 2018 at Stockholm University 14-17th August.
Paper 'The owners of the Earth: Nested Regimes of Ownership and Spectral Sovereignty in Myanmar's Highlands' presented at the workshop Everyday Justice and Security in Myanmar at DIIS in Copenhagen 21st-23rd May, and at the Oxford Graduate Workshop, New Directions in Research on Myanmar at Oxford University 13-14th June.
Paper 'Fractal Borderlands: Nested Regimes of Ownership and Spectral Sovereignty in the Highlands of Burma' presented at the Asian Borderlands Workshop at the University of Tallinn, 2 – 3rd May
Co-organiser of a Panel entitled 'Contested Vulnerabilities' and presentation of paper, 'The Teak Curtain and Peace Park: The Production, Mobilisation & Contesting of Ecological and Ontological Vulnerability Along the Salween River Basin' at SANT 2018: Vulnerabilities, at Uppsala University, 19-21st April.
2017
Paper 'Spectral governance: Anarchy, Affect and Spectres in the "Kaw" Governance systems of the Salween Peace Park, Northern Karen State' presented at the University of Yangon 16th September, and at Chiang Mai University 20th September.
2015
Panel presentation on "The Translocal Spaces of Migration" at the workshop Migration, Security and Development in Southeast Asia organised by Asian Dynamics Initiative in Helsinki, Finland 23-24 October 2015.
Senast uppdaterad: 27 april 2020
Webbredaktör: Lina Lorentz
Sidansvarig: Socialantropologiska institutionen