CEIFO-seminarium om Transnationell Migration - Martin Joormann
EVENEMANG
Datum:
02 februari 2016 13:00
-
02 februari 2016 15:00
Plats:
Socialantropoogiska institutionen, B600
The seminar is organised by CEIFO and the Migration cluster at the Department of Social Anthropology.
Martin Joormann, Sociology of Law Department, Lund University
The First Ten Years of the Swedish Migration Court of Appeal: Legal Precedents, Legitimacy and Sociological Theories of Law
For my PhD project, I am currently studying 'indicative judgments' (in Swedish: vädledande avgöranden), which are legal decisions of precedent value that are written by the judges of Sweden's last-instance 'Migration Court of Appeal' (Migrationsöverdomstolen). The sampled material thereby consists of publicly accessible data that encompass the first ten years of Swedish migration law precedence, i.e. since the implementation of the newest 'Aliens Law' (Utlänningslagen), and the simultaneous emergence of 'the migration courts' (migrations-domstolarna) in 2006, until the recent legal changes towards a more repressive migration policy in the wake of the so-called refugee crisis. The focus of my research is, meanwhile, placed on these first ten years of Swedish migration law precedence in regard to legitimacy through legality. In other words, I am interested in discursive functions that have been aiming at the legally legitimated in- or exclusion of migrants. In order to deepen this discourse analysis also of those legal documents which, as precedent decisions and in certain, particularly controversial cases, are written to legitimize deportations as 'forced expulsions' (tvångsutvisningar), I have so-far conducted a handful of semi-structured interviews with judges who take decisions for Sweden's migration courts. Thereby, my research is generally interested the first ten years of Swedish migration law precedence as (online) publicized information – and thus as possible interventions into public discourse. More specifically, I am investigating the question of how those precedents have, through 'juridification' (Verrecht-lichung), contributed to the discursive legitimation of an administrative system of migration control. In my presentation, I will therefore discuss some preliminary analytical insights, which are based on a pilot study of 20 precedent decisions that concern specifically the expulsion of asylum seekers. Finally, it is my reading of these legal documents that is informed by the interviews I conducted with judges at three different migration courts as well as by social-legal theory, which I would like to propose as a possible topic for discussion.
Find out more about the Migration cluster at the Department of Social Anthropology.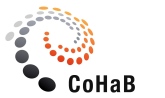 Senast uppdaterad: 13 januari 2016
Webbredaktör: Lina Lorentz
Sidansvarig: Socialantropologiska institutionen