Futures Literacy: Saving UNESCO while saving the world
EVENEMANG
Datum:
09 november 2020 13:00
-
09 november 2020 14:30
Plats:
Zoom link to come
Adrienne Sörbom, Professor in Sociology at Södertörn Högskola and Stockholm Centre for Organizational Research, SCORE Ulrik Jennische, PhD Social Anthropology, Stockholm University.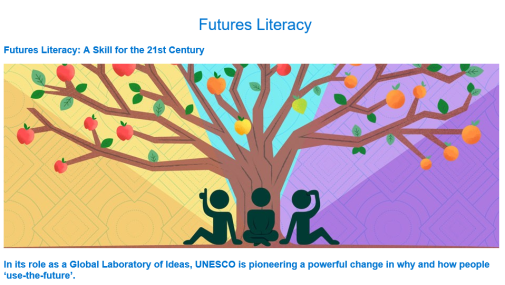 Abstract:
In 2012 UNESCO started the Futures Literacy (FL) project. The organization has since then engaged and mobilized a large group of futurists, researchers and consultants into working together pro bono to improve the capability of people across the world to "use the future". It is argued, that by deconstructing images of the future as dependent on our anticipatory systems, actors will improve their ability to see alternatives and make decisions in the present. This paper intends to present FL as a model and program part of UNESCO's intentions to revitalize itself as "the laboratory of ideas" (Azoulay 2017) and fulfilling its mission "in the minds of men and women" (UNESCO charter). In line with this mission, the FL model is ultimately intended for changing the world. Riel Miller, the leading figure behind the model describes it as "changing the conditions of change by learning to use the future differently" (UNESCO xxx). Drawing on ethnographic data and documents, the paper presents key assumptions of the FL program, and the role the program is intended, and hoped for, at UNESCO. We aim for understanding the social forces that the program identifies as drivers of development, and what social ills it is meant to remedy both locally at UNESCO and in the world. In so doing, we will also see some plausible ills that the program is not aiming for.
Senast uppdaterad: 4 september 2020
Webbredaktör: Lovisa Wahlsten
Sidansvarig: Socialantropologiska institutionen