Logistics brought anthropologists and other social scientists together
The 2019 Stockholm Anthropology Roundtable "Logistics: Re-thinking Economies of Circulation" took place at Stockholm University in October. The event brought together anthropologists and other social scientists in a critical reflection on logistics as both an object of study and as a theoretical and analytical lens.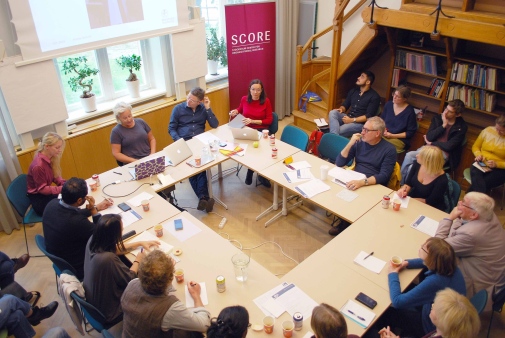 Brett Neilson, Professor at the Institute of Culture and Society in Western Sydney University was one of the participants and shared his views of the two-day long roundtable:
– The thing that has been most interesting and exciting is being in a room with people who have worked on things that are empirical in ways similar to the work I have been doing for the last five years. There are people who have been working on shipping ports, people who have been working on some of the same sites, like The Siliguri Corridor in West Bengal. There is even somebody who hasn't been presenting who is working on data centers, which is my current project.
From Maritime Trade to Global Finance
The workshop brought together scholars working on a wide range of issues including maritime trade, transport infrastructure, migration and global finance. Charmaine Chua is a Political Scientist at the University of California, Santa Barbara, USA:
– As a political scientist my training is often based in broad structural theories that do not necessarily allow theory to emerge from grounded, embodied empirical and ethnographic work.
Jatin Dua, Assistant Professor, Department of Anthropology, University of Michigan, shared his thoughts as an anthropologist:
– As an anthropologist, for me it has also been about methodologies. I think that was felt really unique about this, is that it has all felt cohesive and very much like a conversation where we are all contributing pieces towards a common dialogue.
Successful Roundtable
Many of the researches shared the common thought that this event was very successful in its arrangement. Karin Krifors, post-doc at REMESO, Linköping University thought that it was a great dialogue:
– This format creates a very informal discussion where you can actually finish something, and discussions are just not a statement. We were also, in a very short time, able to get a lot of samples of actual research that's has been done. This is very helpful so that your discussions don't just end up in these abstract dimensions.
Heather Swanson, Associate Professor, Aarhus University, agreed with Karin and thought that logistics itself had an image of being everywhere and nowhere, but in this event the participants looked at logistics in concrete places:
– One of the really exciting things about the conversations we've had so far is this productive movement between grounded, empirical material and a wide range of theoretical discussions. We haven't just had a discussion in an abstract space, but in particular places in the world.
Anthropologists and Logistics
The roundtable was organized by Hege Høyer Leivestad and Gabriella Körling, both researchers at the Department of Social Anthropology at Stockholm University. Hege is currently doing research on maritime logistics in a European container port and was excited about the outcome of the Roundtable.
– My current project deals with global maritime trade and for me this has been a unique opportunity to enter in a dialogue with people whose work I have been reading during these past few years. In anthropology logistics is pretty new as an object of study, and I think there is much to learn from engaging in cross-disciplinary conversations. There are also limitations to ethnographic methodology when dealing with global logistics, and gathering people in the same room in an extended dialogue is also methodologically productive I think.
Senast uppdaterad: 7 november 2019
Webbredaktör: Lovisa Wahlsten
Sidansvarig: Socialantropologiska institutionen