Video tillgänglig från RSC Workshop: Refuge from Syria
Den 9 december anordnade Refugee Studies Centre vid University of Oxford workshopen "Refuge from Syria". Professor Annika Rabo presenterade sin forskning om formell och informell utbildning i Syrien, 1980-2010.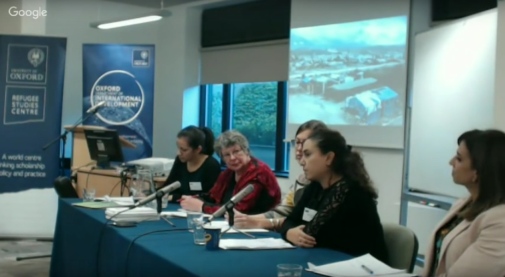 Från institutionens engelska sida:
The workshop was held to engage researchers and practitioners with findings from recent research into the perceptions, aspirations and behaviour of refugees from Syria, host community members, and practitioners in Turkey, Lebanon and Jordan.
It aimed to promote greater understanding of the unique socio-historical context of the Syrian humanitarian disaster in each of the regional hosting countries by addressing specifically changing perceptions and aspirations.
Professor Annika Rabo, Department of Social Anthropology, presented the paper "Education – what is it good for? ...absolutely nothing! OR absolutely everything! Formal and informal education in Syria 1980-2010 and the prospects for a future more inclusive and critical education".
The workshop was livestreamed and can be viewed here.
Find out more about the Refugee Studies Centre, Oxford Department of International Development, University of Oxford.
Senast uppdaterad: 15 december 2015
Webbredaktör: Lina Lorentz
Sidansvarig: Socialantropologiska institutionen